Gig Girl feels compelled to advise – this post is not for the faint of heart (or stomach for that matter):
I've long esteemed Thanksgiving as my favorite celebratory holiday. Of course, I love Easter and Christmas and do my best to honor the religious beliefs behind each. However, Thanksgiving delivers little to none of the "retail requisites" that abound in other holidays. With a complete focus on food, family and festivities, Thanksgiving gets me every time.
Unfortunately, Thanksgiving got me in a whole different way this year…
The day began and almost closed as every Thanksgiving has since Hubs and I got married. Ardent in our recognition of gratitude, we visit with both sides of the family and travel from NH to MA and then up to ME every fourth Thursday in November. Of course, this means we spend the entire fourth Wednesday in November packing up enough gear for ourselves and our upright and four legged boy creatures for an extended lake stay. But the effort is worth it – we arrived in my hometown mid-morning to visit my grandmother with the boys. Then we headed off to my parents and the house I grew up in for a traditional Thanksgiving feast. Satiated and contented we headed up to the lake for further merriment with Hubs family. Exhausted from our state trifecta escapades, Hubs and I retired to our lake bedroom early.
And then, disaster struck….
Gig Girl, despite her feisty, often unyielding and at times, crusty countenance, still fancies herself somewhat of a lady. Thus, I turned to Hubs as composed as humanly possible giving the circumstances and announced;
"Uhmmm, just so you know, I'm fairly certain I'm about to throw up…and it isn't going to be pretty."
And then I did.
And it sooooooo wasn't.
I violently vomited for so long and at such a deafening decibel that, not only did I watch my entire Thanksgiving meal come up, course by course, but I actually became embarrassed over what I could only imagine Hubs could hear through the wall our bedroom shares with the upstairs bathroom. My mortification almost superseded the unimaginable relief I felt once it was over. Almost. In my post-hurl delirium, a crazy turkey vision danced before me, looking something like this: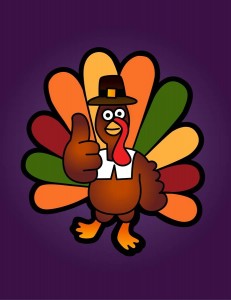 Only it was a much different feathered finger the creature was waving before me…I noted the irony of the the bird, giving me, well…the bird…
I would like to say that this was the only cloying episode in what should have been our Rockwellian holiday weekend.
It.so.was.NOT!
After keeping Hubs awake all night with my nauseated tossing, turning and hurling I shamefully dragged myself into another bedroom to give the man a moment's peace. Hubs finally awoke fully to the sound of Sir Reginald dry heaving on his bed. He raced him to the shower, only to hear Tobin fussing angrily in his crib. Getting Reggie back on solid ground, he went to check on Tobers…
Again, Gig Girl does fancy herself a lady on some levels, so I will spare you most of the details. Sufficed to say, the richness of the food from the day before apparently did not sit well in T's fledgling digestive track…my poor monkey was wearing the meal's remnants from his chest down. It circumferenced his tiny abdomen like an ill-fitting pair of beige and olive liquid mommy jeans.
Hubs found himself getting yet another boy creature in the shower on this fateful morning.
It actually gets worse…
After crawling back in our bed to get some rest, I saw a little brunette head standing over me. "O…don't get too close, I don't feel good," I whispered. Then, "Do you feel okay?" He assured me he was fine and then bounded downstairs to eat some breakfast and prepare for the annual "Friday after Thanksgiving ice skating" with his cousins. Of course, I never anticipated that he was merely putting on a brave front, masking his stomach bug disquietude to ensure he could participate in the aforementioned rink activities.
And neither did Hubs…
So you can imagine his complete and utter shock when, after putting Reggie out, Hubs turned around to find O viciously hurling in his parents' kitchen sink. Racing to his assistance, Hubs let his eyes follow the long, slushy trail of spittle and Coco Crispies that wound down the cabinets and merged into a gigantic mushy puddle midway across the room. That's where he watched in helpless horror as our newly bathed Tobin toddled over and began gleefully splashing about in the bile-riddled drivel as if it were his own personal wading pool.
The man had officially, and understandably, reached his breaking point.
After bathing some more boy creatures, we quickly repacked up the gear we spent all day Wednesday getting together and headed home by 9 am on Friday morning (yes, it was really only 9am on the longest morning EVER). I would love to say we enjoyed a brief reprieve from illness on the truck ride home, but alas we did not. But, as I fear I've already shared too much, I will spare you those gruesome details. Finally arriving home, O and I spent the entirety of the day sequestered upstairs, vacillating through all the horrors the 24 hour stomach bug beholds and giving an entirely new meaning to the phrase "Black Friday."
We awoke Saturday refreshed and reinvigorated to find…Hubs was the bug's next victim.
Despite being the worst Thanksgiving weekend EVER, Gig Girl has learned some invaluable lessons over the past 48 hours.
1) NEVER make your kids' annual doctor's appt. the week of Thanksgiving. I'm pretty sure that's where those miserable germs first accosted us (thus proving my fear of doctor's office germs is NOT unfounded).
2) We all aspire for material comforts on some level. However, having your health and those who love you unconditionally through vile wretchedness are truly life's most precious commodities.
3) Holiday perfection is truly an oxymoron. Whether you accidentally burn the bird (or buns, ye who shall remain nameless!) to a crisp, are forced to awkwardly convene with relatives you only see once a year, or spend the evening in a nausea-induced swirlie, it's never a flawless event. And that's okay – you can always try again next year.
4) Someday we will look back on this weekend and laugh hysterically about how we naively believed that our completely untrained puppy would be our primary unpredictable body function concern.
And perhaps most importantly:
5) In this crazy world of unexpected twists and turns, one can never tell when a Thanksgiving Day meal is going to have absolutely no caloric consequences. Always go for that second helping of pumpkin pie.