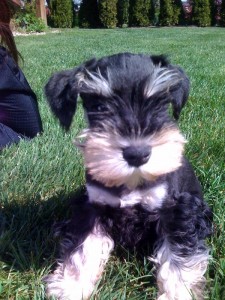 Just a quick little blurb to announce that Gig Girl has a new gig:  Pack Mother!  This past Saturday the Hubs and I made the 2 hour treck to claim the newest member of our family; A 9 week old mini-schnauzer pup we named Sir Reginald Winston (though we're not much for formalities and titles so we'll just be calling him "Reggie", "Reg-Reg" or, on occasion, the "Reginator").  He's cute, he's snuggly and he's bursting with feist (a trait we all know I adore).
Our newest little addition has us all completely enamored.  O wakes up and immediately races to the crate to start Reggie's day and I love having a little buddy hang with me at home all day (it helps me feel less crazy with all the talking to myself I do).   However, my animal lover husband is probably the most smitten.  I got my first clue when I received an email from my sister-in-law which read:  "Wow, thanks for all the cute pictures of the little guy — too cute."  The word "all" stood out to me and prompted the following conversation.
GG: Honey…how many pictures of the puppy did you send to your family"
Hubs: I dunno, probably like 15 (seriously, I'm not making this up.  And they weren't in an online album or anything.  It was 15 jpgs that you had to download individually to view)
GG: (after long awkward pause).  Uhm, babe, no one ever wants to see 15 pictures of someone else's dog.
Hubs: They don't?
GG: Nope, they don't.  In fact…no one ever even wants to see 15 pictures of someone else's kid.  (Again, in an online album is one thing…but 15 separate jpgs, you open the first three, move on and you know it!)
Hubs: Really??? (his genuine shock at this is one of the many reasons why I just absolutely adore him)
GG: Really.  Well, I mean, if their kid is in the pics too, then yes.  But otherwise, no, never.  So you might want to lay off on the pics.
Hubs: We'll see.
To my family: My apologies in advance for any future photo onslaughts.
Footnote: I would never blog about my husband without his permission.  He completely sanctioned this post under the condition that I share two more pics of Reginald.  I'm not kidding…