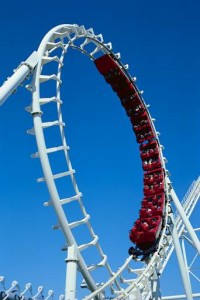 When I started Gig Girl, one of the things I immediately shared was my struggle to conceive.  I wrote about my two painful miscarriages and divulged that my husband and I were in the beginning stages of the dreaded "infertility process." You may have noticed there hasn't been much discussed about the topic since.  I do have some major updates and I'm finally in a place where I feel like I can share.  There is much to write about (some good, some bad, some great) so I need to split it all up into a few different posts.  I promise to keep it as above the "TMI" threshold as much as possible!
Please note that I've changed the names of certain parties involved throughout this post…
As previously documented, my last official day of work was February 19th, 2010.  My first unemployed fertility visit just happened to fall on February 20th.  During the ultrasound (you have many ultrasounds/exams/blood tests throughout the month to gauge the quality of your innards and the whereabouts of your whatnots…and yes, I'm pretty sure those are the medical terms) I heard the technician gasp.  Long story short, due to an influx of hormones, my ovaries were swollen to five times their normal size.  To illustrate further (and totally rip off a 1980's "Just Say No" ad)…
This is your ovary:

This is your ovary on drugs:

Any questions?
Despite the graphic visual, I did have questions…many, in fact.  After I finished peppering the poor assistant RN who was on duty that day ("Dot" the head RN that usually sees me wasn't in) I learned that enlarged ovaries can apparently wreak all sorts of havoc and conceiving with them can have serious implications.
"So what you're saying is it's not a good idea to try this month?" I asked. "No, what I'm saying is you absolutely should NOT try under any circumstances this month," was her reply. I left the office with my own very personalized, very distinct variation of the "Just Say No" message.  Lovely.
While disappointed, I managed to chalk this little blip in the radar up to my "Man Plans, God Laughs" theory.  I was newly unemployed, I was starting my own business and I was embarking on an entirely new life adventure so clearly those were the things I needed to focus on.  With that in mind, I will spare you all the birds and bees details.  However, I will say that, in our defense, we took the clinic's input very seriously and for the first time in two years we honestly didn't "try"…
Three weeks later I took a pregnancy test.  I bought the cheapest one I could possibly find because clearly it was going to be a waste of money.  When the "+" sign popped out at me I thought "Okay, if that's the indicator window, what's the result window supposed to be?" and then realized the "+" was my result.  I immediately took the second test and then it hit me; I was undeniably pregnant…and I wasn't supposed to be…
Every girl dreams and plans how to share the exciting pregnancy news with her significant other.  I too, had those visions…but now was not the time for sentiment – I didn't need the fairytale moment, I needed the support of my best friend.  So I called the Hubs (at work, nonetheless) and blurted out the news.  We discussed next steps and after I hung up I called the infertility clinic to make an appointment for my official pregnancy test.
As I talked to the assistant nurse, "Kate" (once again, "Dot", the woman I usually see was out), I very calmly explained that I understand the circumstances surrounding this pregnancy and realize that it is very likely this would result in our third loss.  I was sad…but I was strong and thankful that they told me to come in immediately for the blood test.
"Kate" hugged me when I arrived and after my blood test she sat next to me and rubbed my back in a consoling manner.  I welcomed her kindness, but I realized that if this pregnancy were a good thing, I wouldn't be on the receiving end of such comforting gestures.  She told me that "Dot" would call me tomorrow with my results and then we would go from there.
As I've been through the positive pregnancy test call twice before I can tell you that normally I'd be waiting/sleeping/eating with the phone firmly in hand waiting for an update. This time we prayed and simply went about our day trusting firmly in the fact that we would get through whatever that call delivered to us.  Late in the afternoon, the Hubs noticed I had a cell phone message.  He brought the phone to our room and I put the message from "Dot" on speaker so we could both listen in.
Dot: Hi!  This is "Dot" calling from "So-And-So Health"  I just wanted to call and let you know that your results from the pregnancy test came back positive and your counts look good!  Give us a call on Monday so we can schedule your ultrasound.
After hearing such a positive message, I looked over at the Hubs.  His expression exactly mirrored the emotion I was feeling in that moment – hope.  For the first time in over 24 hours…we were hopeful.  Caught up in our optimism, I didn't immediately stop and delete "Dot's" message and it continued to play on.  We heard a lot of words and activity and, at first, I didn't quite understand what was happening so I immediately played it again.  This is what "Dot" said after she thought she hung up the phone.
Dot: Yeah, so that was yet another weeping woman calling me up…
Background Person: You lost it?!! (Expletive shrieked here)
Dot: (Laughing at the interruption before continuing)…yet another weeping woman calling me up (which, for the record, I never called or spoke to her about this pregnancy…and I NEVER wept on the phone with anyone at the clinic). Just coming off a miscarriage…just coming off her second miscarriage…yeah, it's (and then she said both my FIRST and LAST name). And now she's calling me up with her dilemma.  (Heavy sigh) I don't know why these people do this to me…
Stunned, I looked at my husband and whispered, "Good feeling gone"….