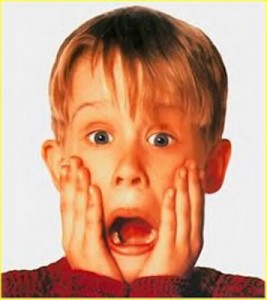 Here's my confession:  Gig Girl has significant boundary issues when it comes to my preferred media indulgences and what is considered "age appropriate" by the masses for my specific demographic.  Put simply: I'm a pop culture junkie.  Don't get me wrong, my English literature and creative writing degree means I love the classics and can hold my own in a literary debate.  However, oftentimes, my conversational passion frequently revolves around the latest Jersey Shore episode (don't even get me started on the Ron/Sam drama) or most current People Magazine (I firmly believe that Elin Nordegren held her own with dignity) issue.  There… I said it…
Soooooooo – the upside is that even as an individual categorized as an "AMA" (of "Advanced Maternal Age") for this pregnancy, I still have a pretty good grasp about what "the kids" are into these days.  I am very close with my pre-teen/teenage niece and nephews and I love chatting with them about the latest MTv "reality" show or some other current trend.  However, this middle aged teenager learned the hard way that this adoration for all things fluff has a dark  and seedy underbelly with dire consequences…
A few weeks ago the Hubs and I traveled 2.5 hours to the Cape for a bridal shower (one of my non-biological "sisters").  While there, we also ran another errand for the Hubs that didn't go well.  As I sat in our truck watching him conduct a "carefrontational" conversation with the salesman, I could tell this was not a discussion easily wrapped up.  So, picking up my smartphone I decided to amuse myself (the phone is new and I'm still getting used to all its functionality). "Hey!  I didn't know I had Youtube on this…"
That night we stayed in a hotel so I could go to the shower in the morning.  I got a funky, early morning text from my service provider telling me something about exceeding my data plan BLAH BLAH BLAH.  I hand these matters directly over to the techie department in my house:
Gig Girl: Hon…can you tell me what this means?
Hubs: (reading message) Uhm…this says that you've gone over the allotted "courtesy" minutes on your data plan.  Which…is weird…since you know you don't have a data plan.
GG: Right, I know that.  I've never emailed from my phone.  So what's their deal?
Hubs: You know it's not just email right?  It could be from internet use or…
GG: (with a sudden anxietal pang gripping my innards) Wait – internet use??  How could it let me even access the internet if I didn't have a plan for it?  I mean, what…
Hubs:  (interrupting as its clearly not his first time at this particular rodeo) I put a $200 cap on the "courtesy minutes" just as an emergency measure.  So this means you've exceeded that limit.  What website were you on?
GG: (softly) Well…yesterday while you were talking to the salesman…I went on YouTube.  I thought it would make the hour go by faster…
Hubs: Youtube??!  What were you watching for over an hour on Youtube??
GG:  (very softly) ……
Hubs: Wait, what?  I couldn't hear that….
GG: (exasperated and embarrassed) TWILIGHT OKAY!  TWILIGHT!  While you were in there doing your thing, I sat in the truck and did searches on various Twilight scenes and watched them again and again until you were done!  TWILIGHT!  There!  Are you happy now?!
Hubs: Didn't you already see that movie? (Seriously, that was his response. Clearly the Hubs just doesn't understand the whole Bella/Edward compulsion.  Plus, if he were truly paying attention he would have also added "AND READ ALL THE BOOKS" to the end of that question…)
So for the next hour, the poor Hubs had to work with our service provider to remove the $200 charge off our bill.
One problem – the charge wasn't $200…
This past week our cell bill came in.  I opened it up to find that our normal $130 worth of combined charges was currently coming in at SIX HUNDRED AND TWENTY SEVEN DOLLARS.  Essentially, my little one hour Twilight marathon rang up a whopping FOUR HUNDRED AND NINETY SEVEN DOLLAR charge.
I silently handed the bill to the Hubs and just hung my head in shame.  After he put his eyeballs back in their respective sockets, he laughed, shook his head and spent the next hour trying to not only get the original $200 off that he was promised weeks ago, but also seeing if he could get the extra THREE HUNDRED DOLLARS taken off our bill as well.
He was able to get all but $87 of it waived, which we both can live with.  He also signed me up for a new data plan to ensure this little episode does not repeat itself.  Now that it's "free", Edward has never looked so good…
Have a similar guilty confession?  Embarrassment loves company…feel free to post below in the comments.  Or, simply confirm my husband's belief that I'm utterly ridiculous when it comes to my pop culture obsession…I deserve that…