Survival Lesson 1: Communication At All Costs
Communication. We grow up hearing that successful communication holds the key to a successful marriage. Looking at our parents' happy unions that have spanned an almost 90 years combined, Hubs and I couldn't help but agree. So for the entirely of our almost three years of marriage, we've worked exceptionally hard on strengthening the lines of communication with one another.
As a man, Hubs tries really really hard to pick up on all the subtext I simply can't help including in our conversations. Conversely, as a woman, I do my best to not get pouty when I have to get really literal with him regarding what I need from him at any given moment.  And while it's a struggle at times when I feel like the source of my need/frustration/issue should be VERY apparent – I do realize that taking the time to give him the blueprint of where I'm at and/or what I require emotionally really seems like a small price to pay since he's really quite willing to run with it from there. While far from perfection, this communicative effort has truly worked for us over the years.
And then we became parents to a newborn…and sensibility, reason and sanity flew straight out the window.
Particularly for me.  Quite frankly, I was too exhausted to map my physical and emotional needs as a "brand new for the second time" mom.  I just wanted Hubs to know what I wanted without me having to talk about it.  I wanted him to JUST DO IT AND DO IT NOW.
Essentially, I tossed the poor bugger to the wolves without any of the necessary tools to survive.
And, in this scenario, the "wolves"….well…that's me.  And everything came to a head two weeks after Tobin was born…
After being cooped up inside the house, I was ITCHING to bust out.  O's school hosted a Holiday Festival and I thought that would serve as our first official family outing.  Hubs agreed and the night before we carefully planned out, thoroughly discussed, briefly mentioned that we'd need to be a team in order to get up, ready and out on time.
In hindsight, this little team really should have taken the time to put together a game plan…
The next morning, still groggy from a sleepless night of Tobin tending, we dragged ourselves out of bed and ran off to take care of our responsibilities.  I stayed upstairs to get dressed, get the bambino changed, dressed and fed while Hubs went downstairs to get the diaper bag ready and then come back up to take the baby so I could finish getting ready.
Or so I thought…
Let us all fast forward 35 minutes later to where Gig Girl is found rocking a screaming infant, crying postpartum tears of exhausted hysteria while a pool of baby vomit stagnates in her nursing shirt hoodie and mustard seed poop covers both legs of her maternity jeans.  "WHERE IS HE AND WHY HASN'T HE COME UP TO RELIEVE ME?!!" I inwardly hissed and dragged myself downstairs to investigate.
What I saw SHOCKED me.
There stood Hubs in our kitchen, showered, handsome, looking fresh as a freakin' daisy and cooking up a frickin' storm. Eggs were frying, bacon was sizzling and cookie sheets were lined with bagel halves all ready to be popped in the oven to toast up the finished breakfast sandwiches.  BREAKFAST SANDWICHES.
My rage spilleth over (or perhaps that was my hoodie vomit?)…
Quickly determining that O was downstairs in the basement and out of earshot I asked,"You're making breakfast sandwiches??? This is what you've been doing all this time?!?!  BREAKFAST SANDWICHES?!!"
The Hubs looked at me, genuinely shocked at my behavior (or perhaps, standing there covered in poop and vomit, he was marveling at my human burp cloth impersonation?) "Of course not!" he replied indignantly, instantly restoring my faith in our little team unit.  "I also went through the house and threaded all the wipes through the tops of the wipes containers."
He also went through the house and threaded all the wipes through the tops of the wipe containers??
For those of you that need a visual for this deed, essentially all my wipes containers went from this: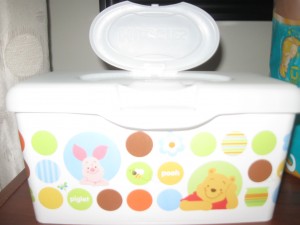 To this: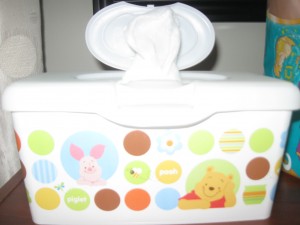 And no, I am not kidding.  In case you missed it:
From this: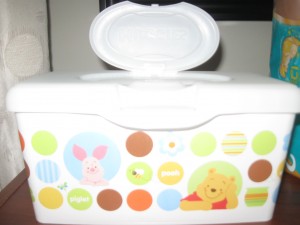 TO THIS:
I stared at him, silently blinking for a moment. And then I FOUND MY VOICE. Gig Girl will spare you all the gruesome details.  However, I will make one sheepish admission that should give you all the information needed.
I know firsthand what gravity can do to gourmet egg sandwiches being viciously hurled through the air to a soundtrack of blood curdling screams…

When I shared this story with one of my sisters in law, she asked me very seriously. "You hurled the sandwiches???  Uhm…how do you recover from that kind of response?  Because that…that sounds pretty tough to recover from."
Gig Girl admits – it wasn't easy.
But after Hubs recovered from the shock of my outburst and I examined the protein/carb carnage resting in an unsalvageable heap in our trash bucket, we did what we should have done to start with – communicated with each other.
I learned that Hubs was only making egg sandwiches because he wasn't sure exactly what I needed, but he knew wanted to make sure I got a chance to eat and it would be a great portable meal for me to eat on the drive. More importantly, he told me the whole newborn dad thing is a completely foreign entity to him and he really needs me to get a little specific with him when it comes to what I need from him during this particular phase of parenting (something I never anticipated since he's a wonderful and intuitive parent to O).
And Hubs learned that, while the sandwich was a really sweet thought, when I'm running on literally no sleep and looking like an old dirty dishrag, that egg sandwich has literally no perceived value to me. I'll happily grab a granola bar if it means I can hand over the babe just so I can grab a shower, comb my hair and drain the liquid out of my hoodie.
As for the newly threaded wipes…deciding to go the very literal route (it was a struggle, I'll admit), Gig Girl tactfully suggested that perhaps Hubs should next time focus on making sure the diaper bag was packed and ready.  Honestly…