This past Saturday, February 19th marked some major milestones in the House Of Gig.  Exactly one year earlier, I gave my former boss the infamous "Lips moving, still talking" diatribe and bid the world of Big Business adieu.  On February 19th, 2010 I officially began the phase of my life I like to refer to as "Operation Corporation Liberation" (say that five times fast).  I had no idea how long or if I even could make a go at the work at home thing…but as I wrote in my first blog, I began what could only be considered "an unchoreographed cliff dive" into the realm of stay-at-home-work-from-home mom.
I celebrated this important anniversary with…a trip to my accountant to get my taxes done (it was actually just a coincidence that we chose this date, but as we all know, Gig Girl doesn't believe in coincidences). While I was certainly prepared, I left his office armed with a ton of  (new to me) information. I'm sure some of this I should have known…but I'll admit….I didn't.  One of the big things I didn't realize was that if you have a registered business you have to renew that business name every year through the state (not sure if it's just a New Hampshire thing) by April 1st.  He also gave me some great information regarding small business write off's, expenses, etc.  I left his office knowing that I had a few action items to tackle and manage in the upcoming year.
The most important thing I left his office knowing?
Ovel, LLC turned a profit last year! My "little business" was officially in the black. Granted, you had to squint really hard to see that black ink…but it was there!  And when I factor in all the money I saved last year on daycare, gas money, lunches out, work clothes, etc., that profit margin expands exponentially, making me quite the thousandaire.
And when I factor in all the precious time I've gotten to spend home with my family, it suddenly feels like a million bucks.

Proud and excited, I took the Hubs and some of my new found wealth and reinvested it back into my business.  Gig Girl has officially declared 2011 the year of proper bookkeeping software (still working on getting my bank accounts to link up – bah!) and voice recognition to text programs (I haven't set it up yet, but I figure being able to create content and still have two free hands might negate ever needing to simultaneously type and breastfeed AGAIN…we'll see).
February 19th is also important for another reason.  It was exactly one year ago, after suffering two miscarriages, that I was told to absolutely, positively NOT try to conceive that month.  It marks the anniversary of the chain of events involving Nurse Dot talking mad smack about me and my medical history at a scrap booking party after she thought she had turned off her cell phone (If you don't know this story, click here and here and here.) and the little miracle pregnancy that wasn't supposed to happen.
And finally, this February 19th, Tobin Donald turned 3 months.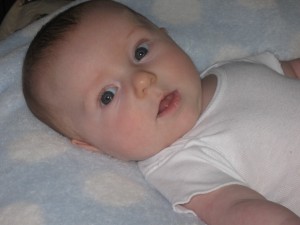 One year later, I realize that calling my Corporation Liberation an unchoreographed cliff dive was a misnomer (as well as apparently not even being a word according to my spell check). Yes, it was a completely unexpected move on my part.  Quitting my full-time-full-salaried-full-benefits-with-a-big-girl-office-and-even-a-window job is something that I NEVER expected to do.  However, this past year has truly been a testament to a plan far greater than anything I could have ever put together.  There's nothing unchoreographed about that.  As I  look out at the complete uncertainty of our leap of faith's next 12 months, it's comforting to know I'm in good hands.