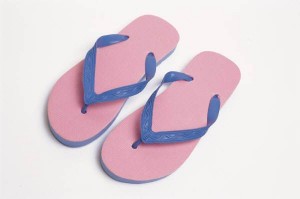 Recently, I came across an online study that discovered women, on average, apologize more frequently than men do.  It went on to say that it's not because men don't apologize for misdeeds – they actually ranked just as highly as women when it came to doling out mea culpas for perceived transgressions. Rather, women apologize more often than men simply because we truly feel like we've erred more often than our male counterparts.  Hmmmm…
While I would love to chalk this little factoid up to us ladies being the more nurturing, intuitive gender (we're not called the kinder, gentler sex for nothing), I did take a moment and take a little introspective inventory and realized:
Naturally, when warranted, I like to think that I'm capable of expressing regret and saying, "I'm sorry" (Hubs might disagree). But, when I think about it, I fall in line with that study and exist excessively apologetically.
Whether it's a "sorry" morphed into ardent justification, validation attempts, garden variety life choice defending, etc. I find myself in a weirdly consistent flux of feeling sorry about stuff that shouldn't even register on the remorse radar.  So I've made a list of things that henceforth I will try, attempt to, not apologize (to the world at large or even to myself) for:
My Cardigan: My girlfriends often tease me that I never met a cardigan I didn't like.  They are wrong. I've actually never met a cardigan that I didn't LOVE.  At my core I recognize my intense affinity for jeans, v-necks, cardigans and flip flops.  But, sometimes I look around at some of the moms at O's school and feel completely impressed (and simultaneously just a teense inadequate) with how uber-girlie and well put together they appear at all times while I'm doing a spot-on Fred Rogers impersonation. At times I have struggled with the feeling that, at any moment, my imaginary "Girl Card" may be rightfully revoked (Especially since, in the spirit of full disclosure, I should also confess that I really don't like the color pink). Going forward I will strive to simply embrace my "practical-shoes-wearing-nature" instead of feeling like I need to make amends for it.
My Over-Worrying: Being raised by a quintessential worrier mom coupled with decades of Chris Hanson and Dateline has created the perfect storm that surrounds my extremely worrisome nature when it comes to my kiddos. In short – O sees a playground and I see an impalement hazard. And while I will continuously work on allowing my boys the freedom needed to feel self-confident as they grow up, I need to stop making amends when another parent's safety gauge is different than mine and there are things that I just don't feel comfortable with.  Never again will I apologize for my vigorous opposition to O cannonballing into the virtual cesspool of germs at Chuck E. Cheese!
My Extreme Aversion To All Things Housewives: Let the record reflect, I love pointless, pedestrian television. I once sat through a good chunk of a Silent Library marathon – and enjoyed every.single.minute. I know that all the Housewives installments reap huge viewer ratings and, I swear, I have tried to sit through episodes from several of the different cities. A lot of my friends LOVE the show so I have found myself nodding demurely when it's the topic of our conversation and kind of feeling sorry that I don't share their enjoyment of the show.
But, I stand here before you today to announce that the times I have tuned in all blur together in a blinding vision of really bad parenting, pouting over a $5,000 clutch that doesn't close, vicious cat fights and a 45 year old woman resplendently ridiculous in full on ice dancing regalia at Rockefeller Center.  And these "friends" are so mean to each other!  I cringe every time I surf by.  My reaction is so visceral that I couldn't even tolerate Dr. Phil's version – and I love Dr. Phil.  So there, I said it – and I'm not sorry!
My Parenting: In this case, my apologies present as a wave of passive/aggressive (okay and sometimes just aggressive) debate and justification. Every parent knows that to have children is to be subjected to all sorts of unsolicited input, advice and suggestions. I've started to realize just how much time I've wasted systematically addressing each unwanted opinion. Why?  It's essentially existing in a constant state of reactive sorry. As long as the Hubs and I are raising our boys according to our own standards and values, a simple shrug or pleasant nod in the inputter's direction should suffice.
My Own Internal Barometer Of What True Happiness Is: The world is full of forces that will try to determine what should make someone feel satisfied, and at times, I've felt the need to defend that fact the Jones' (or the Kardashians) just aren't a factor on my fulfillment gauge.  My own definition of happiness is a personal, subjective entity that would probably read like a foreign language to the masses.  And that's okay.
No, I will never claim an existence brimming with utopian perfection (as the flying egg sandwiches of days past can attest to). But, I do have the ferociously unwavering love and adoration of my most favorite boy creatures, the privilege of watching O get off his school bus every day (and, trust me, I watch him make every single step of the 10 yard journey to the safety of my front door to ward off any lurking, future Dateline wackos) and apparently I've struck some magical deal with the invisible Pamper fairy because I have never, not even once, had to empty my diaper champ when it's full.  Honestly, what more can a Gig Girl ask for?  According to me, I am happy.  Unapologetically.
What are some of the silly things in life that you feel you need to defend or make amends for? Or, have you actually mastered simply embracing all your quirks and insecurities without a sorry in sight?  Send me an email at csf@thegiggirl.com or leave me a note in the comments below!