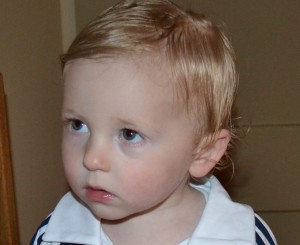 Legend has it that some children, ages 12-24 months, use their timeouts for moments of behavioral reflection – as an opportunity to think about their perceived misdeeds and mentally prepare to do better, to be better next time….
I gave Tobin such an opportunity today. I sat him down, quickly reminded him why he was in timeout (aka continuously attempting to free fall on top of your big brother and the dogs is NOT okay) and then walked away to leave him alone with his thoughts. Because he stayed seated after I left, I was hopeful that he would pensively replay the events   in his mind, realize his misdeed and be behaviorally reborn upon my return. Instead, I instantly heard some singing, giggling and then a few distinctively slurpy noises that prompted me to grab my camera.
This is what I found: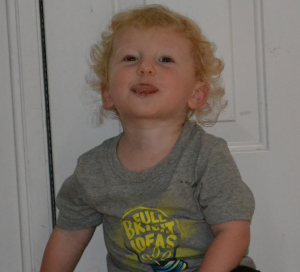 Sigh.
Of course, Gig Girl is no child-rearing expert. But, I'm fairly certain that this isn't exactly his "meditative introspection" look. I'm pretty sure that, at 21 months, I'm already on the receiving end of a Tobin-sized song if disregard. Tra la la– Lord, please help me…
While the dismissive irreverence smarted a bit, I realized that the exercise was not a complete waste of time. After almost two years of searching, I finally have the irrefutable evidence I need that this little blonde, green-eyed baby boy does, in fact, have some of my (albeit feisty!) DNA in there.