Just a quick update (as Gig Girl is happily a teense tired these days and surely not capable of anything longer that a "note".  Please forgive any typos or grammatical errors).  On November 19th, Hubs and I made our way to the hospital for our scheduled C-Section with Dr. T.  Apparently, November 19th was a crazy baby birthing day and our delivery got delayed a few hours.  However, the morning went quickly and before we knew it, Dr. T was wheeling me into the OR.
Knowing I was nervous, she set up a station on Pandora for me to play Sarah McLachlan music throughout the procedure.  The music, Dr. T's capabilities and unbelievable bedside manner, the wonderful team of nurses and anesthesiologist and the sight of Hubs in scrubs, shower cap and booties helped eliminate my anxiety.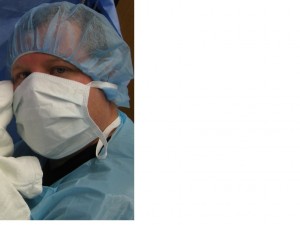 The surgery went well and before I knew it he was here!!  At 11:15am on Friday, November 19th, 2010 our baby boy arrived healthy (he received a perfect 10 on the apgar scale…I share this not to brag, but to simply embrace the blessing of the health of this little monkey that according to certain "professionals" should never have been conceived) happy and handsome.  Big brother O, Hubs and I were in love instantly.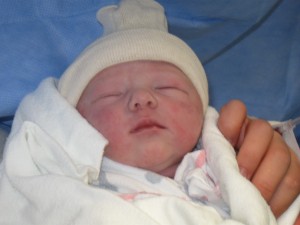 We named him Tobin Donald – (his middle name is after my father).  His first name actually found us during an entirely spontaneous visit in a Plymouth, MA gift shop while running a unexpected errand that took us down to the Cape over the summer (we all know I don't believe in random events and coincidences).  Hubs found the name on a bookmark listing all the surnames of the Mayflower passengers and we both fell in love with it.  But its meaning is what resonated most with us.
Tobin, quite simply, means: "God is Good."
Yes…He is.