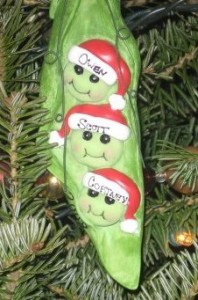 Anyone who knows the Hubs and I personally knows that, as a couple, we tend to roll through life on the gritty side.  We are undeniably blessed and fortunate, but strange, awkward and occasionally mortifying things happen to us that would never happen to anyone else (Case in Point: the whole Dot saga…a perfect example of our grainy journey through this life).  It literally started the night we met (which ended with one of my slightly inebriated friends tossing an unexpected lip lock on the Hubs…a story for another time) and hasn't stopped since. Things that  would fall under "simple and carefree life exercises" for other couples end up being epic dramatic sagas of sorts for us.
I like to tease Hubs that these types of episodes never happened to me before I hitched my wagon to his star.  However, let's face it; Gig Girl was a divorced single mom of a toddler at 30 so I wasn't exactly skating through butter all by myself.
So combined, our karmas, while overwhelmingly fortunate, do occasionally resemble a train wreck of sorts.  When I relayed this revelation to the Hubs while we were dating, he cringed at the term and declared that "we're more like two peas in a pod."  Henceforth, our family crest officially represented "Life In The pod" and our official motto became "Man Plans…God Laughs." And while we're not always completely aware of why things happen in the pod, we are certain of one thing.  The gritty has undeniably conditioned us to truly appreciate the grand.
I tried hard to remember this notion over this past weekend.  On Friday, Hubs and I were out with Baby T running a few Christmas errands.  Carelessly, I blurted out, both to Hubs and the universe at large; "I just realized that Tobin and I have been together every single second of his entire life.  We've never been apart."  And then… "I wonder when will be the first time I'll be away from him?  Where will I be going?"  We then pontificated to ourselves about spa days, shopping outings and a plethora of other fun "momtime" excursions that I might take in the upcoming weeks…once I was ready to part with him for a moment or two, of course.
Because we are us and we roll how we roll – we got our answer the very next morning.  As I awoke I realized that there was no other alternative and that I would be embarking on my first "Tobin free" episode immediately…as I drove myself to the Emergency Room at the hospital I had just delivered him at three weeks earlier. With swollen glands and a throat so puffy I could barely swallow I knew it had to be done – I wanted to make sure that 1) I was healthy enough to continue nursing and 2) I needed to nip this illness in the bud as being sick with a newborn just can't be fun on any level.  Leaving Hubs with Tobin's first pumped bottle and a small prayer that the babe would take it, off I went.
As ridiculous as it sounds – I cried alone in my car for the whole six minute drive to the hospital.  I cried that I had to leave the babe.  I cried worrying about whether Tobin would refuse the bottle and just scream the whole time.  I cried thinking about the poor Hubs and how stressed he'd be if he couldn't feed Tobin.  And most importantly, I cried for being an idiot and posing the ridiculous question of when I'd leave him to begin with!!!  When will I learn?!!
After leaving the hospital, I understood why it happened.  I had been ignoring the tickle in my throat all week…and would've continued to do so if it hadn't taken a turn for the worse.  Getting sick enough for the ER was the only way I would've gotten looked at and gotten the meds I needed.  And if the ER grit hadn't happened, I wouldn't have gotten the opportunity to experience the grand pod moment that was waiting for me back at home: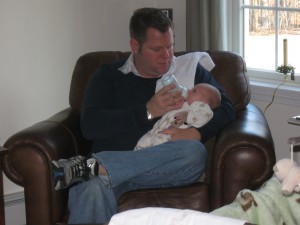 Tobin's first bottle feeding, although unexpected, was a huge success.