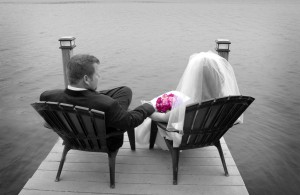 To put it simply; Gig Girl has blown it…big time.  Tomorrow marks my two year anniversary, which besides the birth of my son, quite literally embodies the most precious event of my entire life.  On this day I gained a devoted life partner, O and I forever discarded the term "duo" in favor of "family" and both of our clans lovingly embraced the missing little puzzle pieces they had waited ever-patiently for to make our extended familial jigsaws complete.
So yeah, it's kind of a big deal day.  To make it worse, dates are kind of my thing.  I'm the family go-to Gig Girl for dates, birthdays, ages, etc.  Four months ago, I would have seamlessly sailed through a hectic work week of early mornings and late nights, parented up a freakin' storm, and remembered that, in addition to father's day and his birthday, June requires a commemoration of our anniversary date from me to the Hubs as well.  However, we all know it's been a hectic week with an influx of gigs and well, my multi-tasking muscles have atrophied quickly in ways I hadn't anticipated.  So here I sit on Sunday morning sipping coffee while overlooking the peaceful tranquility of the lake and I've realized that…not only have I not purchased a card…but I will literally have no opportunity to squeeze in a Hallmark run before tomorrow morning.  Adding to my angst, the Hubs surprised me yesterday with a beautiful new watch to celebrate what I kinda thought was to be a giftless occasion (our gift being a day trip and activities we had planned to do together as a family with O).  BAHHHHH!!!
So as a token of sincere sentiment (and yes, a slight attempt to somewhat assuage how much of a complete clown I feel like at this very moment) I dedicate this post entirely to my beloved husband.
Man Plans, God Laughs:

We have an expression often bandied about in our house:  Man plans, God laughs. It's an adage we live by and have watched unfold numerous times in our lives, both separately and now together.  Perhaps our actual union best exemplifies this expression.  We talk often about how, on paper, we just never should've worked out…
He planned:
To never even date a previously-married single mom, let alone fall in love with one and her rambunctious but adorable and impossible-not-to-love then 3-year-old son.  And then he met us…
I planned:
To never marry again.  To never even date seriously again, but rather focus all my efforts on independently raising my son into young adulthood.   And then we met him…
On June 28th, 2008 God laughed:
As we vowed that from this day forward, we would be a family.
We could almost feel His chuckles in the church as we committed ourselves, not only to each other, but to Owen and any other little creatures we may be blessed with along the way.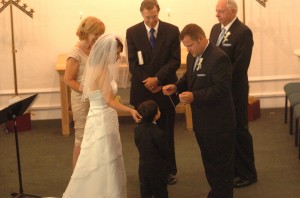 We sensed His mirth watching over all our chilly and sunless (but thankfully, completely dry) outdoor festivities as we celebrated at our favorite place with all our favorite people.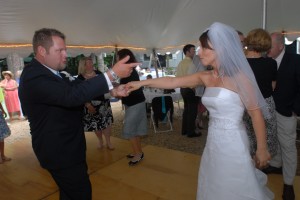 Too quickly, the day ended and we waved goodbye.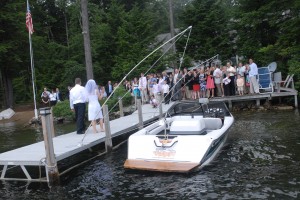 Then did what any couple would do after hosting a lakefront wedding reception.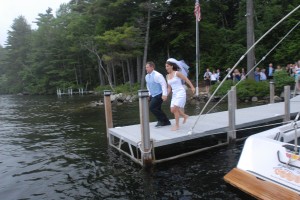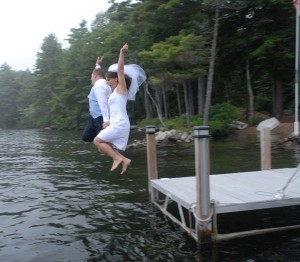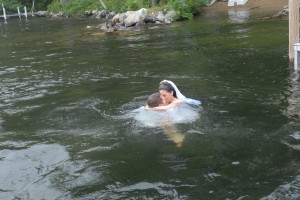 And off we went to start our life together.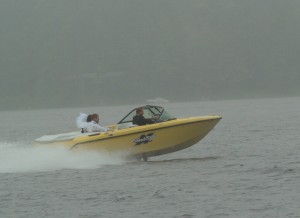 After we sped away, God's humor felt most tangible.  We heard His undeniable belly laughter in the thunderous downpour He released just 23 minutes after our reception ended, giving our guests just enough time to safely get in their cars to head home.  We felt unbelievably grateful, not only for His perfect timing with the weather on this particular day…but for His infinite perfect timing in all the events on the long and winding road that led us both to this very moment.  Standing outside in the rain together shivering from the falling drops as well as our lake drenched attire…we laughed too.
Happy 2nd anniversary to my eternal true love.  You are my best friend, my spirit's (as feisty and forgetful as it may be) perfect match and the sole reason I believe in 2nd chances and more importantly, happy endings.  XOXOXO
GG