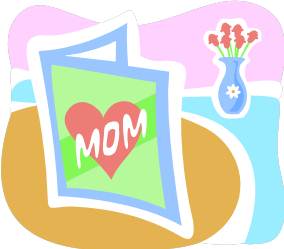 Since Mother's Day lies just around the calendar corner, Gig Girl thought it only fitting to pay tribute to my own mom.  "Madge," (short for "madre," pronounced "Mahhhhdge") as I've affectionately called her since teenagedom, has played a major role in well…everything.  Yes…sometimes we drive each other nuts (spend some time with the two of us and it's easy to see exactly where I get my feist from genetically).  But I'm eternally grateful in every way possible for her.  Over the years she's been my mom, mentor, advocate, cheerleader, soft place to fall, best girlfriend and everything else in between since the day I was born.
So to honor her this Mother's day I thought I'd showcase a special story about Madge on Gig Girl.  I considered sharing how she always got involved in my life and took in an interest in/supported everything I participated in.  How she coached every sports team I played on throughout school.  Or, perhaps discuss how she not only always encouraged me to come to her and talk about anything (which I did), but she was also always the mom that all my friends loved and confided in as we grew up.
I briefly entertained outlining all the many ways that she's a beautiful handful; a one-woman traveling circus of sorts able to turn a room from this:
To this:
In literally the time it takes to say "Happy Thanksgiving!"
Then I thought maybe I should share an anecdote about the time when we each took a summer course at a local college and when her class let out she drove in front of the fishbowl windows of my assembly hall, picked me out of the crowd, got so excited just to see me (even though we had just seen each other two hours earlier on the commute there!) she began incessantly beeping her car horn and waving furiously as my ENTIRE class stared at her and I realized that the lunatic in the window was dear old mom and had to wave back!  I even thought about waxing poetically about how her example of motherhood helped form the type of mom that I am to my boys.
And it would all be true…
However, this Mother's Day I'd like to share a more recent memory of Madge.  This happened about a year and a half ago after we'd each started our own Facebook accounts.  Against my better judgment she and my dad purchased O an iTouch for his birthday (Typical OGSS…Only Grandchild Spoiling Syndrome).  While I was completely against the purchase, Hubs did take a really cute/funny pic of O enjoying his new gadget, which I shared on Facebook:
Cute pic, right?  Cute enough that it garnered the normal comments from my Facebook brethren about how cute, funny, hysterical O looks.  My neighbor, noticing her own house in the background (at the time undergoing roof reconstruction) made a pithy comment regarding the blue tarp.  Essentially her note read something like (forgive me, I deleted the original comment – my neighbor's words were a lot more clever), "Wow….I thought you and Hubs lived in a more reputable neighborhood. But clearly the blue tarp/construction shows how shady your section of town is!"
When I read the note, I giggled at my neighbor's self-deprecating wit.
And then I read Madge's response…
My darling mother, not knowing that my neighbor was mocking the current state of her own abode, took her comment as a literal and personal affront to me and the Hubs and where we lived.  She really thought that someone was capping on our hood – and that would NOT be tolerated on her watch. Flying into a Mama Bear furor, she responded for all the Facebook World to see:
"I dislike rude people very much!!!"
(cue the cricket chirps please…)
After saying a quick prayer and opening the eyelids I didn't realize I had clenched shut, I looked again hoping that I misread the line.  Nope – still there.

"I dislike rude people very much!!!!"



Again…I had to inherit my feist from somewhere…
Luckily, I knew my neighbor (a mom herself) would find Madge's response both funny and precious.  And, while I did fill my mom in on the specifics of the situation and give her a half-hearted rebuke about proper Facebook etiquette and refraining from telling off the masses on my page, deep down I knew her little outburst, albeit misguided, evidenced exactly the kind of mother Madge is…
Happy Mother's Day to the woman who has taught me everything I know about being a mom.  Who has demonstrated time and time again that motherhood is a lifetime job and that, no matter how old I get, she will always, always have my back.  Love you, Madge!!