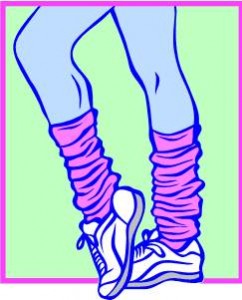 Like most new moms, Gig Girl had but one Christmas Wish this holiday season:
Dear Santa,
I've been extremely, very, pretty, kinda good this year.  The only thing I want for Christmas this year is…my pre-pregnancy body back.  I know you're super busy so please don't waste any time wrapping it up for me.  Just shove it under the tree and I can take it from there.
Merry Christmas!
Gig Girl
p.s. If you have a hard time accommodating my particular size, no worries, I totally understand.  I'll happily take a smaller model if it makes it easier to pack it onto your sleigh .  Just saying…
Christmas morning arrived and I raced downstairs to see if my holiday wish had been granted.  However, obviously Santa has been jaded and viciously embittered from his own unsuccessful battle of the bulge; instead of a pair of magical jeans that zip up beautifully without straining, I received hand weights (okay fine, it was a SHAKE WEIGHT.  I will pause for your peals of laughter to subside.), a yoga ball and a pair of Reebok Toners.  Jolly ole' elf MY EYE!
Okay,  FINE, St. Nick.  I get it.  (Actually, Hubs has asked me to note here that in this case, he was NOT Santa…he actually purchased me some lovely jewelry commemorating our family for the holidays and doesn't care if I lose a pound.  My "lose weight gifts" were purchased by others based on me specifically asking for them.  Except for the Shake Weight…not sure how that sucker made its way under my tree).
Whatever – Gig Girl realized she's going to have to get on it and lose the (ahem) 30 pregnancy lbs. separating her from the magical jeans herself.  But how?  I immediately found myself tallying up all the reasons why, as a new mom, I can't find the time to work out.  "Tobin is too young for a gym daycare!" "I can't squeeze in the time during his mini-catnaps."  "It's winter in New Hampshire for crying out loud…it's too cold to go outside!"  The whiny and negative internal dialogue almost won…almost.
However, in an effort to be my own best friend, I told my inner Debbie Downer to zip it and sat down to have a constructive brainstorming session with myself.  Surely, there has to be a solution.  And then I had my "eureka!" moment…
Gig Girl, has officially joined the ever-prestigious ranks of…wait for it….wait for it…MALL WALKER!  (you simply can't decide if this is more pathetic than the Shake Weight, can you?). I will concede that a lot of the preconceived stereotypes of this very distinct and prestigious group are essentially true:
Yes, the early morning mall is teeming with retirees and senior citizens, resplendent in a sea of rustling windbreaker suits and headbands getting in their daily cardio and a.m. javas
Yes, it's a bit like being an extra on the set of "Cocoon"
Yes, you will get a vicious glare if you attempt to pass a seasoned veteran on the left
And yes, we once accidentally crashed into the Senior Citizen calisthenics class being held in the middle of the food court (really)….
But, I digress. Gig Girl can't be overly choosy and the mall is a basically huge indoor track (that opens an hour early specifically for walkers, I might add) that is:
Free
Indoors
Free
Warm
Free
Stroller friendly
Free
Did I mention that it was free?  Plus, it has several built in ramps to get a little "incline training" going while I'm pushing the babe (all while sporting my new Reebok Toners of course).  And the store windows are full of motivating ensembles to keep me moving (curse you skinny mannequins taunting me with spring and cruise wear!). There's a reason why age and wisdom go hand in hand.  These silver-haired foxes have discovered the best fee free gym ever.  Take that, whippersnappers…
The best part?  I found a willing contemporary to join me!!  My dear friend Tinks has recently taken leave of corporate life to embark on her own journey of self-discovery.  So every morning, Tinks and I meet with little Tobin in tow, haul around for a solid hour and enjoy grownup girl time (which I truly covet since for a stretch there Hubs was my only adult interaction every day).
The best best part?  While it's certainly not the most intense workout I've ever endured, I dropped three pounds the first week. Tra la la! So stayed tune for updates on how this little adventure goes (and yes, I will keep you posted on how the Shake Weight works, because deep down you know you are curious!

)