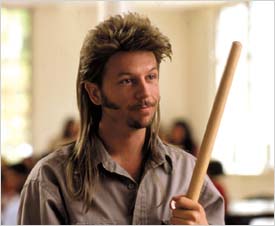 Last week I had the daunting, self-assigned goal of making 10 potential client contacts.  I received a lot of encouragement and support on my last post which outlined just how much "sales calls" terrify me.  One commenter, Elizabeth, gave me the most eloquent and motivating "Suck It Up, Buttercup" speech I've ever read or given to anyone myself (I'm a smidge feisty by nature so I've given many.  Yes, I do understand the hypocrisy).  Basically, she told me no one ever died from making a phone call.  Try as I might, I really could not argue with that logic.
Feeling inspired, I directly called 3 research companies.  Not terrible.  I then left 4 semi-polished voicemails for local entrepreneurs.   Maybe this task wasn't so bad after all.  Feeling overly confident I then left the most horrifyingly awkward voicemail for a Manchester small business.  I just completely drew a blank mid-sentence.  At one point the panic seized all coherent brain function and rendered a pause long enough to pass right through merely uncomfortable and sail effortlessly into slightly disturbing.  I did send a follow up email to hopefully control some of the damage.  I won't hold my breath waiting for a return call.
Disheartened, I did a search on the Women's Business Center in Portsmouth, NH.  Joining this group has been on my action item list since I met with my small biz advisor.  I figured that, like me, most of these women started as a one woman shop and could empathize with someone just starting out.
I came across Susan Nye – Around the Table first.  A researcher by nature, I quickly checked out her business website, which then led me to her food blog, susannye.wordpress.com.  Here, she referred to herself as a "corporate dropout" who gave up a career in international sales and marketing for "the fun, flexibility and fear of self-employment." She now runs a food services business, writes for magazines and blogs.  Her words resonated with me immediately and my phone phobia dissolved – I realized that I actually wanted to speak with this woman.
And I did.  I pitched and she very politely declined.  Remarkably, this didn't even feel like the rejection I so clearly dread when making these calls because I was really interested in hearing more about her decision to leave her corporate roots and go it on her own.  We chatted for about 10 minutes and in addition to learning a little bit more about her story (which she also shares on a 2nd blog, "Susan Nye's Other Blog"), Susan gave me some advice on company size to target, told me more about the WBC (she's actually on the board), gave me a contact to reach out to about writing online and even told me if I lived closer she'd give me a gig waitressing at an event she catered this past weekend.  The call went so well that I ended my goal at lucky number 9 just to end my week on a high note.  (For those of you screaming "Ba-Gock" at this philosophy, I will remind you that 9 is very close to my goal of 10 and sing to you my "Song of Disregard" with my hands cupped firmly over both ears:  Tra la la la la…)
Despite all Susan's valuable input, I learned an even greater lesson from our phone conversation.  My "A-Ha" moment if you will.  I realized that my whole sales call mentality was horribly dated.   Essentially, my plan of attack was the business equivalent of a bad (as if there were any good) 1980's mullet.  Old school cold calling will rarely yield results for the services my home business provides.   Instead my approach needs to center around networking, exposure, referrals and sometimes just plain old everyday conversation..a phone exercise I actually excel at.