Gig Girl has a not-so-secret confession to make.  I'm opinionated, strong-willed and have a generous amount of feist sprinkled throughout my DNA.  This makes me, at times, and particularly with those I love most, a bit of a handful.  Under normal circumstances, these traits are often tempered by my sharpened (albeit sarcastic) sense of humor and patience.  However, at almost 32 weeks pregnant, the relentless onslaught of  hormones, complete lack of sleep and constant aches and pains normally associated with incubating a human being have rendered me utterly incapable of patience and humor.  Initially, my grumpy episodes fell into more of a Gig Grrrrrl type of category, but lately I have gone to a place of full blown Gig Grizzly rage.
Unfortunately, the Hubs often falls victim to these episodes.  Part of it, quite frankly, is just his own darn fault.  (Don't poke the bear, darling!) But under normal circumstances, I would like to believe I would have handled the following conversations with a lot more grace and perhaps just a dash of sarcastic wit because, despite the occasional ridiculous outburst, the Hubs is an amazing husband (as evidenced by the fact that he encouraged me to quit the job I was miserable at, is by far my biggest advocate not related to me and completely and willingly stepped up to support the little family he inherited just two years ago) and an unbelievable dad (don't even get me started on this one) that deserves a calmer, gentler response from me (as he often gives to me when I'm the one poking the bear). Instead, lately he's been getting a full on ferocious frenzy – it's almost as unbecoming as the wide horizontal stripes I've taken to wearing these days.
EPISODE ONE: Oh, are YOU tired?
Reggie was sick for two nights in a row a few weeks back.  Hubs got up both nights and took him out to take care of him.  Kudos.  However, the second morning I watched him mope around with heavy eyelids, emitting deep guttoral sighs hoping that Reg feels better soon "because these early morning are killing me."
Getting up twice in two days was killing him?????  Are you kidding me???
I was utterly dumbfounded and stood staring, my mouth fully agape…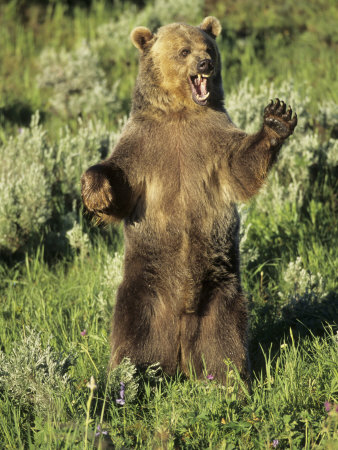 Then I finally came to and found my voice:
Gig Girl: Oh, I'm sorry….are you a little TIRED this morning???  Because I haven't slept in MONTHS and in a few weeks we're going to have a screaming (but precious and adorable) creature waking me up throughout the night because he's hungry while you count dreamsheep.  (grunted with supernatural, inhuman roar) SO SLEEP ON THAT!!!
EPISODE TWO: You wanna get that?
And then there was the morning a few weeks ago when Hubs had to use my bathroom (aka the spare bathroom) to shower as his bathroom (aka the master) was leaking through the ceiling.  I was sitting at the kitchen counter working when he yelled down from the top of the stairway, his voice oozing smug rebuke as this was clearly an attempt to bring to my attention my messy ways:
Hubs: Hey, Hon…you've had a brush on your bathroom floor here for a week now behind your trash can.  Do you want me to pick it up or keep leaving it there?"
It was the smug tone that sent me over the edge – I had been looking for that brush.  As I can't see my feet these days, it doesn't surprise me that I missed it hanging out on the floor!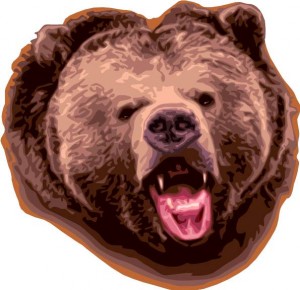 Gig Girl: You've seen it on the floor for a week and you've just left it there??? (again, the unearthly roar – I think if this moment had been videotaped you'd see my head spinning around in 360 degree increments) YEAH, HOW ABOUT YOU PICK IT UP SINCE I STOPPED BEING ABLE TO BEND 2 WEEKS AGO – THANKS!!!
EPISODE THREE:  Grow this!
Let's not forget the morning we were driving down to Southern MA for our dear friends' wedding (Congrats, Mr. & Mrs. A!!) a few weeks ago.  Excited about a rare grownup evening out, I snuggled up close to the Hubs in the truck and grabbed his hand.
Hubs: (kissing my hand and noticing my bitten finger nubs – yes I realize I'm too old to still be gnawing on them) Soooooo…you think you'll ever want to grow some fingernails?
In his defense – the nail thing has been a little joke in between us since we started dating.  The schtick goes – he teases me about the nails and then I charmingly respond that if I had nails I'd be a perfect woman (dripping with sarcasm of course) and who wants that?
Except these days I have no reserve charm.
Can…not….stop….rage…and…adrenaline…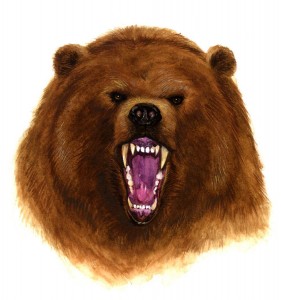 Gig Girl: Oh…you want me to grow some nails??  Well, right now I'm too busy trying to GROW a business while simultaneously attempting to GROW an actual human being inside of me!!!  So why don't you (roar!) JUST BACK OFF BUDDY???!!!!
EPISODE FOUR: Party On
And finally, there was the rageful moment last week as we were getting ready for the big September birthday party celebration at the house.  As with most things – we totally teamed up throughout the week to get as much done as possible.  Hubs even stayed up with me one night until 10pm putting together the homemade lasagnas we were going to serve so we could freeze them and have them ready to go.
On the day of the event, we had been running around all day and Hubs did an awesome job getting the new furniture moved into the nursery (Huge thank you to our neighbor for his help moving everything in!)
Now it was down to crunch time – guests were expected to arrive in less than an hour, we still had a ton of prep work to do, none of us (including O) were showered or dressed and I still had some last minute shopping I had to run out to do.  I looked over to find Hubs sitting at the kitchen counter casually surfing the web.
Gig Girl: So….whatcha doing?
Hubs: I'm seeing what time the dump closes…I want to take those empty furniture boxes to the dump today.
You all know I always usually occasionally adore my husband's small picture perspective.  However, all I heard from the sentence above was that I would have to do EVERYTHING alone in the next hour because he simply couldn't fathom having a few broken down boxes (that have been in our possession for a few mere MINUTES, mind you) in our COMPLETELY EMPTY BASEMENT FOR A FEW DAYS UNTIL HE COULD GO TO THE DUMP ON MONDAY!!!!
To maintain a modicum of ladylike dignity, I will not give you the details of that particular conversation and will simply let the picture speak for itself:
Clearly not my proudest moments, both as a woman and a wife.  To his credit, the Hubs often just laughed at my outbursts which helped assuage the rage and basically made me laugh too.  So a huge shout out to my husband (and any other loved ones who have fallen victim to the Gig Grizzly attacks) – thank you for your loving patience while I muddle through these next few weeks of blinding hormonal anger and prenatal discomfort